Looking to create a dessert table for a party? It can be easy and fun to create the perfect table full of sweet treats for your guests. Here are my tips and tricks.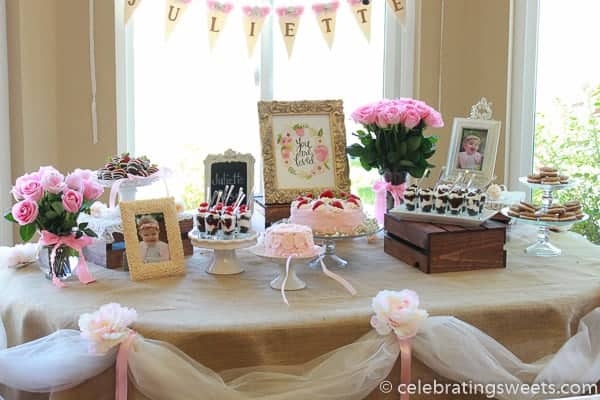 These photos are from my daughter, Juliette's, first birthday party. Note: I am definitely not a party planner or a professional baker. I'm just a mama that wanted to make my little girl's birthday party extra special. I was pleasantly surprised at how fun and affordable it is to create a dessert table. You can do it too!
Here's how I did it:
DESSERT MENU:
Fresh Strawberry Layer Cake
Vanilla Smash Cake (for Juliette)
Raspberry Brownie Trifles
Chocolate Peanut Butter Brownie Trifles
Oatmeal Cream Pies
Chocolate Dipped Strawberries
1) Plan, plan, plan! How many guests are you hosting? How many desserts would you like to serve? Do you need to accommodate anyone with food allergies? I served 5 desserts to about 25 guests, and nearly everything was eaten!
2) Make as many items as you can in advance.
Most cake layers (unfrosted) can be tightly wrapped and frozen days in advance. Defrost in the fridge, then frost the cake the day of your event.
Balls of cookie dough freeze beautifully. Make cookie dough days or weeks in advance, then bake them the day of your event – freshly baked cookies with minimal effort! I did this for the oatmeal cream pies.
Pound cake also freezes really well, and it's great in trifles. No one will know it's not freshly baked!
3) Use a mixture of homemade and store bought items. You don't have to make all the desserts yourself. Pick and choose the items you want to make, and then buy the rest.
4) Take one thing (I used boxed brownies) and make two desserts from it. I prepared a boxed brownie mix the day before, then chopped the brownies and layered them into two different flavors of trifles the day of the party (pictured below). I used a gluten-free brownie mix because we had several gluten-free guests. Even the guests who eat gluten loved these trifles!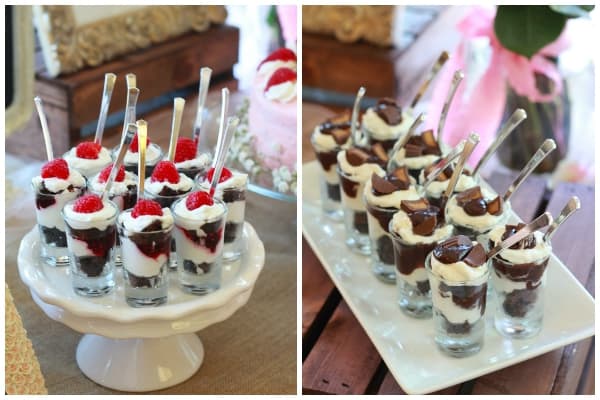 5) Apothecary jars, mason jars, and candy dishes all look great on a dessert table. Fill them with candy and provide a scoop for guests to help themselves.
6) Table decor: fabric is typically less expensive than buying tablecloths. We used a large piece of burlap and tulle for our table covering. I also suggest using items from around your house to decorate. I used a banner, floral print, frames, and candles that we already had in our house.
7) To make your display more visually pleasing, display desserts on dishes, platters, and stands of varied heights. Additionally, you can raise platters or stands even higher by placing them on a stack of books hidden under the fabric or tablecloth.
Most importantly – HAVE FUN! Your guests will love the assortment of sweet treats, and you'll enjoy watching your dessert table bring people together. Happy celebrating!