Fresh Strawberry Cupcakes made from scratch! Moist and tender vanilla cupcakes filled with fresh strawberries and topped with strawberry buttercream. No artificial colors or flavors – pure, fresh strawberries in every bite. VIDEO below.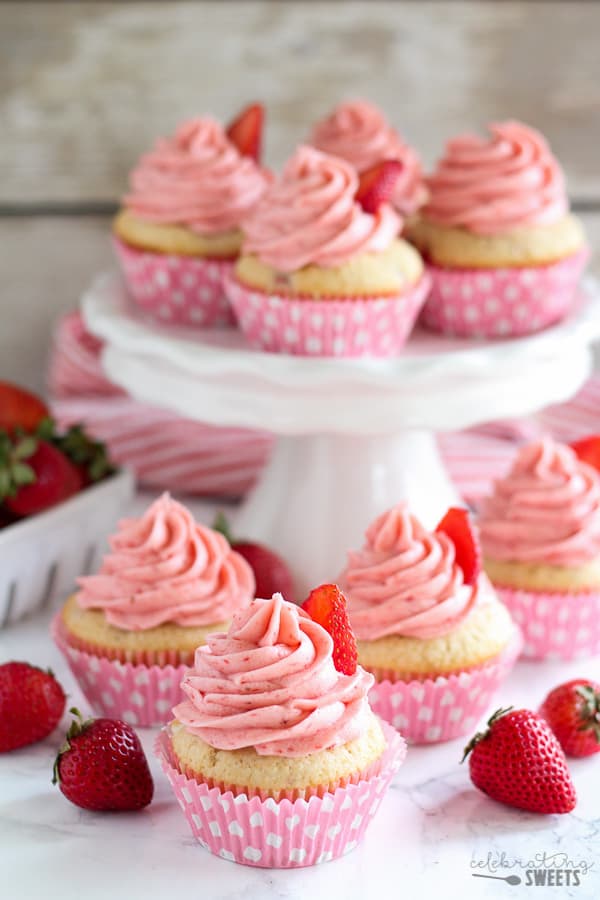 You know that summer is here (or almost here) when most of my recipes have berries in them. Five of my last six recipes featured berries (sorry/not sorry?). I love baking with fresh berries this time of year!
This recipe is actually from a few years ago, but I decided to make a video and reshare the recipe because it's too good to be stuck way back in the archives. Plus, these pretty pink cupcakes basically scream "It's summer, eat ME!"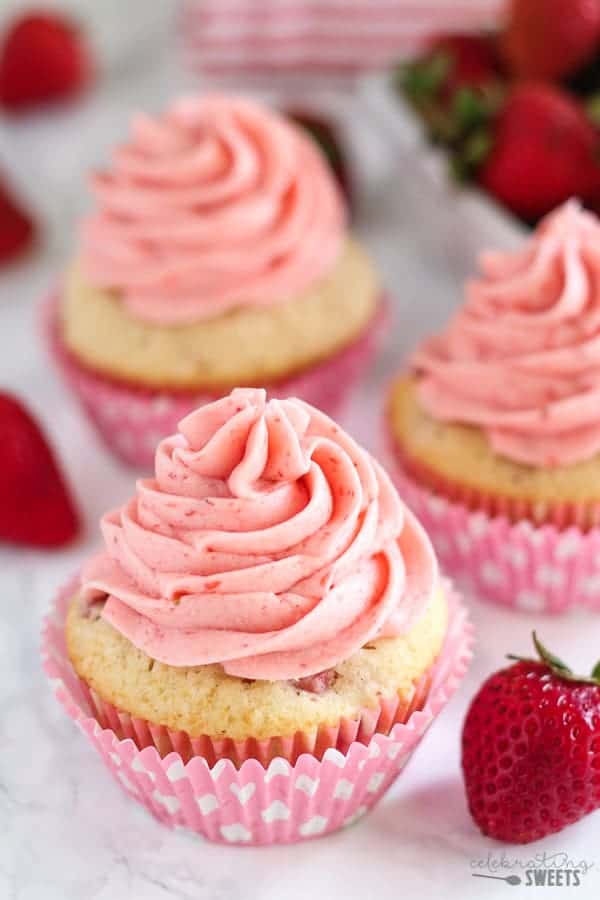 Strawberry Cupcakes
These cupcakes are worlds away from a typical boxed strawberry cake mix. I love that the pretty shade of pink comes from fresh strawberries, not food coloring. They are moist and tender and filled with real ingredients. The cake itself is flavored with vanilla extract and small pieces of fresh strawberries. The cupcakes are fluffy and buttery, and you can't beat those diced strawberries running all throughout.
Tip: Use the best strawberries you can find. The more red and sweet and they are, the better! If your strawberries are slightly under ripe, or not very sweet, you might want to hull them, to make sure those flavorless white pieces don't make their way into the cake or frosting.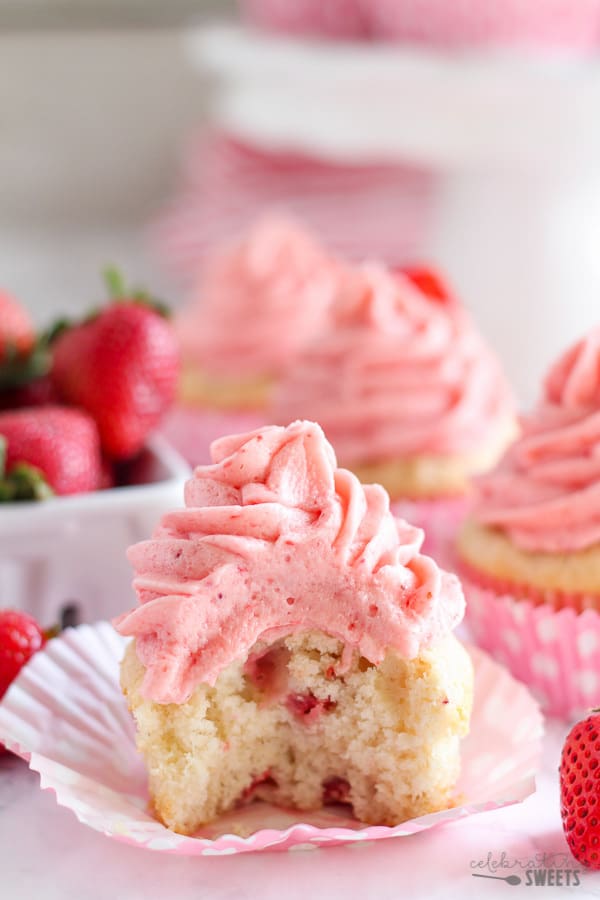 Strawberry Buttercream Frosting
Let's talk frosting! These Strawberry Cupcakes are topped with the prettiest Strawberry Buttercream Frosting. The frosting is made with pureed strawberries and strawberry jam.
The color of your frosting is going to vary depending on the how dark your strawberries are. I've made these nearly a dozen times, and the frosting can range from a lighter pink to a darker pink. It's beautiful and delicious no matter what shade it is! And it's the absolute perfect compliment to our strawberry cupcakes.
I take a lot of pride from the fact that these cupcakes are made from scratch and with real strawberries! Most cake mixes and frostings are loaded with fake strawberry flavoring and food coloring. There is no need for that fake stuff, when you have beautiful sweet strawberries to be the star of the recipe.
And it's not just me that loves these Strawberry Cupcakes. My readers love them, my friends and family love them – this really is one of the best cupcake recipes ever.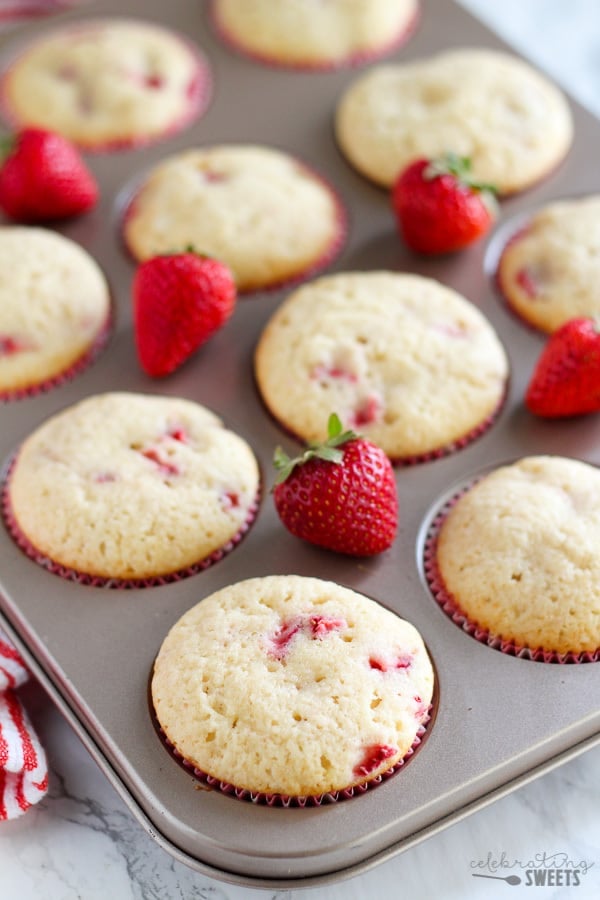 This recipe will always hold a special place in my heart. I first made these cupcakes three years ago when we welcomed our daughter into the world. We celebrated the arrival of our sweet Juliette with these pretty pink Strawberry Cupcakes, and I've made them every summer since. These cupcakes made an appearance at her first and second birthday parties, and soon they'll be part of her third birthday celebration. They make a great celebration cupcake, as well as a great everyday cupcake (that means you need no reason at all to make them).
Fresh strawberry flavor, swirly pink frosting. These have it all! Enjoy!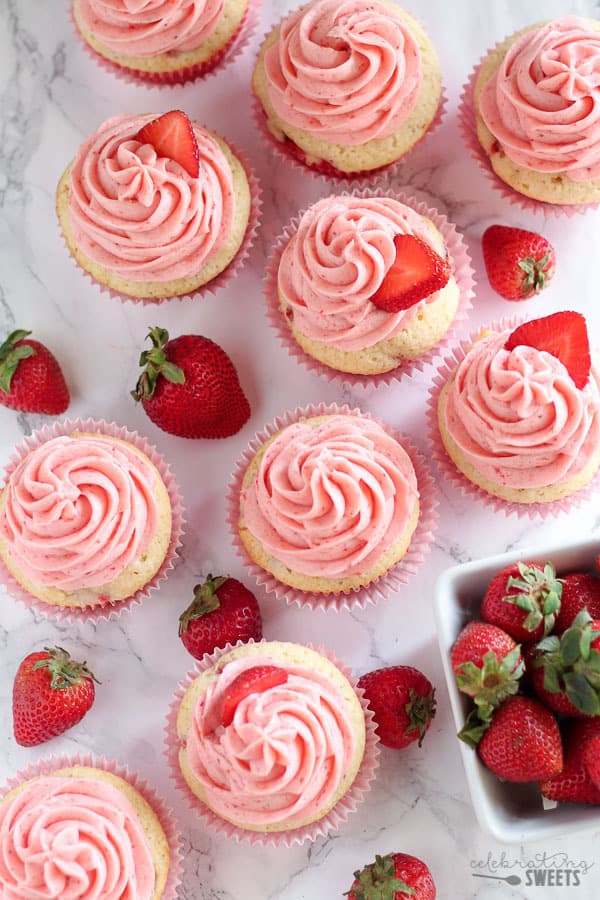 NEVER MISS A RECIPE!
Subscribe to receive my recipes (free!) to your inbox
Like Celebrating Sweets on Facebook
Fresh Strawberry Cupcakes
Moist and tender vanilla cupcakes filled with fresh strawberries and topped with strawberry buttercream.
Ingredients
Cupcakes:
1 1/2

cups

all purpose flour

1

teaspoon

baking powder

1/4

teaspoon

salt

1/2

cup

unsalted butter

at room temperature

1

cup

granulated sugar

1

egg

2

egg whites

2

teaspoons

pure vanilla extract

1/4

cup

whole milk

1

cup

finely chopped strawberries
Frosting:
12

tablespoons

unsalted butter

softened

3

cups

powdered sugar

sifted if lumpy, plus more if needed

3

tablespoons

fresh strawberry puree

see note

1/4

teaspoon

pure vanilla extract

1

tablespoon

strawberry jam

Fresh strawberries

to garnish (optional)
Instructions
For the cupcakes;
Preheat oven to 350°F. Butter a 12 cup muffin tin or line with paper liners and set aside.

In a medium bowl, whisk flour, baking powder and salt, set aside.

In a stand mixer with the paddle attachment, beat butter on medium-high speed for 2-3 minutes, until light and fluffy. Scraping the bowl as needed. Gradually add the sugar and beat until well combined. Reduce the mixer to low and add the egg, egg whites, and vanilla extract.

With the mixer on low, add half the flour mixture, mixing until just combined. Add the milk, mixing until just combined. Add the remaining flour and mix until just combined, scraping the sides of the bowl as necessary. Using a rubber spatula, carefully fold in the chopped strawberries.

Divide the batter evenly among the prepared muffin cups. Bake for 18-20 minutes, until a toothpick inserted into the center of the cupcakes comes out clean. Transfer the muffin tin to a wire rack to cool completely before icing.
For the frosting;
With a hand mixer, or stand mixer fitted with the paddle attachment, beat butter for 2 minutes, until smooth and creamy, scraping down the sides of the bowl and the beater as necessary. Add the powdered sugar, 1/2 a cup at a time, beating until combined. Add puree, vanilla extract and jam, and beat on medium speed until fully combined, being sure to scrape down the sides of the bowl and beater as needed. If necessary, adjust the consistency by adding more powdered sugar or more strawberry puree, to thicken or thin it out. Place in a piping bag, or use an offset spatula to frost cupcakes (this makes enough frosting to generously frost the cupcakes). Garnish with sliced strawberries, if desired.
Recipe Video
Recipe Notes
To make fresh strawberry puree, place 3-5 chopped strawberries in a food processor and blend until pureed.
I store these cupcakes in the refrigerator. It helps the frosting from getting too soft. I like to allow them to come to room temp before serving.
Nutrition Facts
Fresh Strawberry Cupcakes
Amount Per Serving
Calories 411
Calories from Fat 153
% Daily Value*
Total Fat 17g 26%
Cholesterol 59mg 20%
Sodium 68mg 3%
Potassium 88mg 3%
Total Carbohydrates 61g 20%
Protein 3g 6%
* Percent Daily Values are based on a 2000 calorie diet.