A fluffy vanilla sponge cake filled with layers of whipped cream frosting and juicy strawberries. The classic flavors of strawberry shortcake in a rustic, yet elegant layer cake.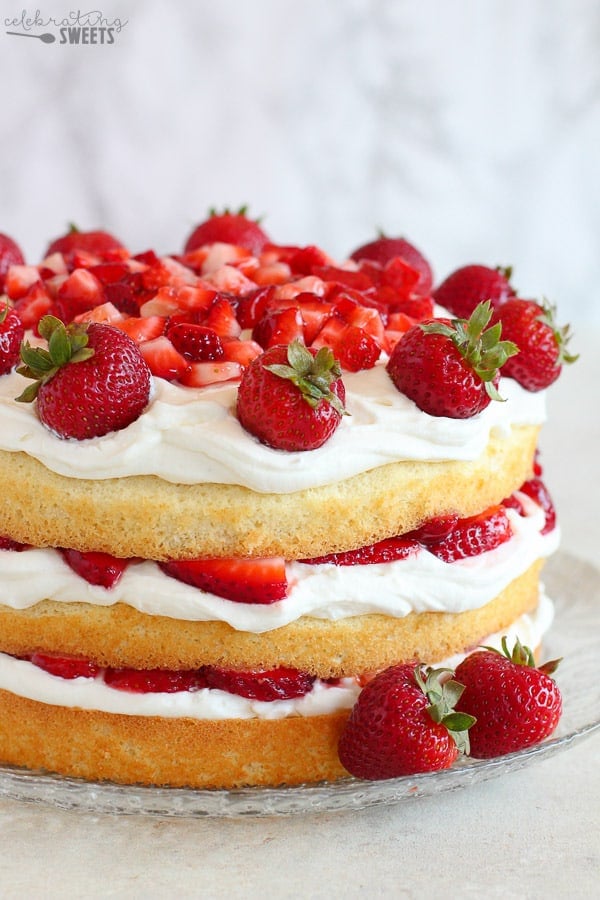 What tastes like a strawberry shortcake, looks like a beautiful layer cake, and is sure to impress anyone and everyone you serve it to?
Answer: STRAWBERRY SHORTCAKE CAKE!
If you've been around these parts for a while you know that I absolutely love baking with strawberries (I kinda like drinking 'em, too). During spring and summer, there are always strawberries in our kitchen. They are my favorite fruit to bake with, and they go well in so many recipes.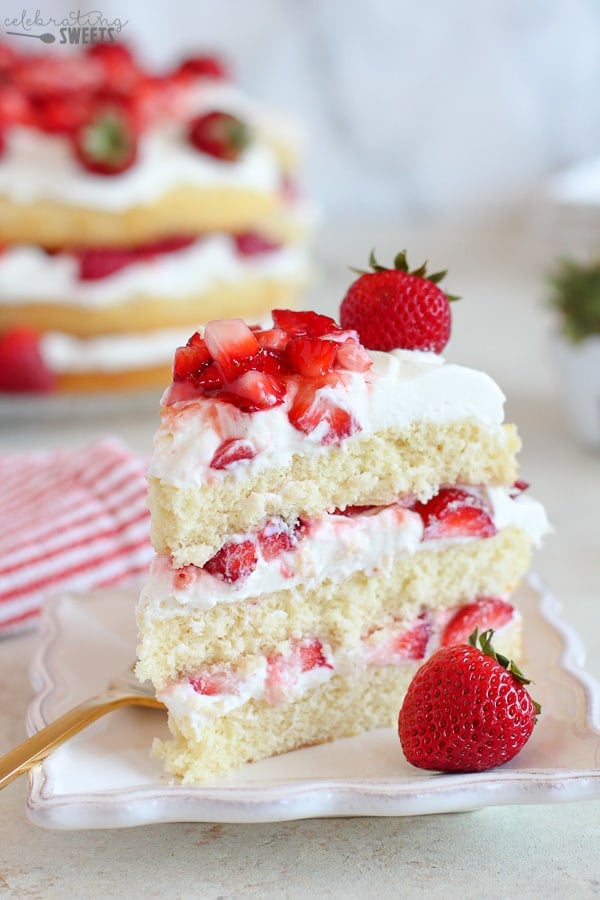 I've had a Strawberry Shortcake Cake on my summer "to-bake" list for years. My goal was to come up with a cake that had all the flavors of strawberry shortcake stacked high in a gorgeous layer cake.
My main criteria were that the recipe needed to be fairly easy, completely from scratch, and it needed to taste AMAZING (duh). I fully expected to have to play around with this recipe multiple times until I got it right, but, somehow this came out perfect – just the way I wanted it – on the first try.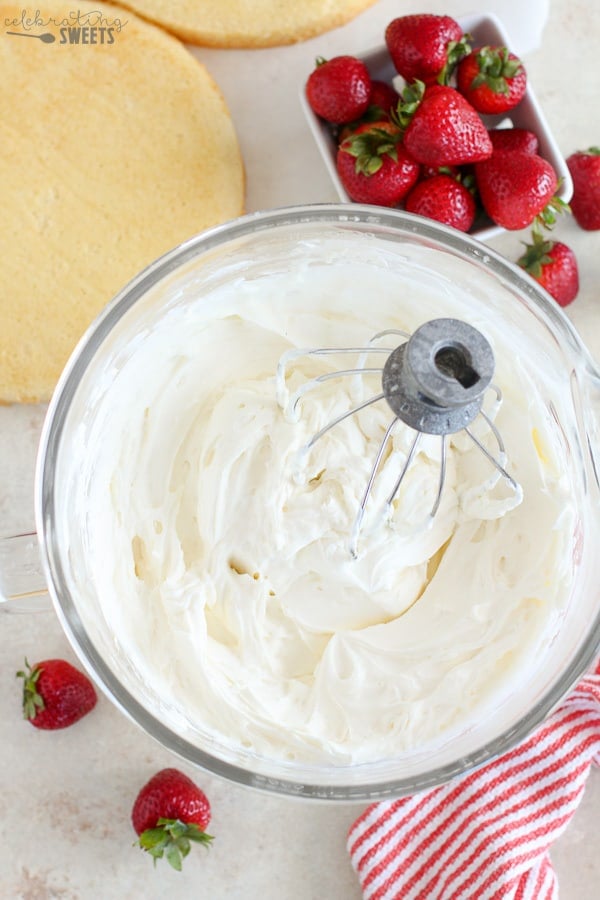 Strawberry Shortcake Cake
Vanilla Cake: I made three layers of a fluffy (almost sponge-like) vanilla cake. The cake layers are light, yet sturdy enough to hold our filling and topping. If you'd prefer a two layer cake, you can bake the cake in two pans, rather than three. Your layers will be slightly thicker than mine.
Stabilized Whipped Cream Frosting: Strawberry shortcake has to have whipped cream (and not the kind in a can or that questionable whipped topping in a tub). This is the real deal – freshly whipped cream, lightly sweetened with powdered sugar, and flavored with a touch of vanilla. In order to keep our whipped cream firm, I also add cream cheese to it. This stabilizes the cream and helps it hold its shape. You will have enough frosting to frost the sides of your layer cake, if you desire. I like the rustic look of leaving the sides exposed.
Strawberries: Find the best strawberries you can and toss them with some strawberry jam (this makes them glossy and sweet). Strawberries go in between our cake layers, as well as on top of the cake. You can decorate the top of the cake however you like: I used a combination of diced strawberries and whole strawberries. I used thinly sliced strawberries for layering in between the cake (see below).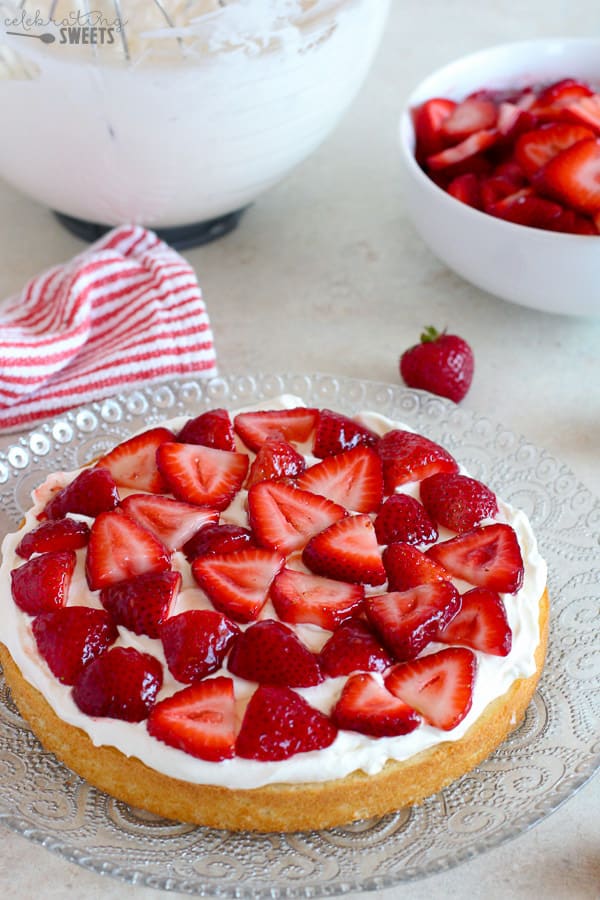 What I love about this cake is its versatility. It's pretty enough to be served at a dinner party, yet casual enough to be part of a summer BBQ. If you know someone with a summer birthday, this cake would be extra pretty studded with candles and served to your loved ones. However/whenever you choose to make it – just make it! Grab those beautiful summer strawberries before they are gone.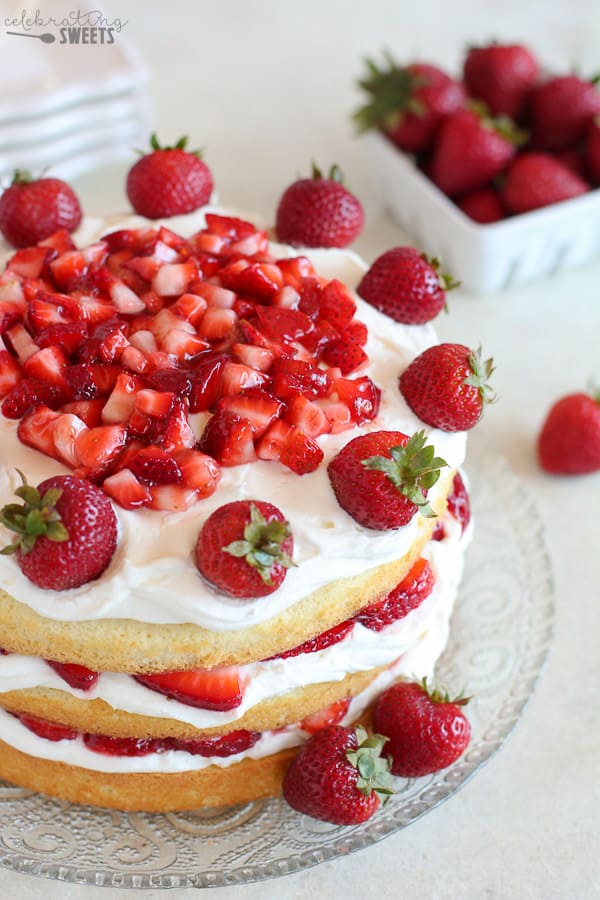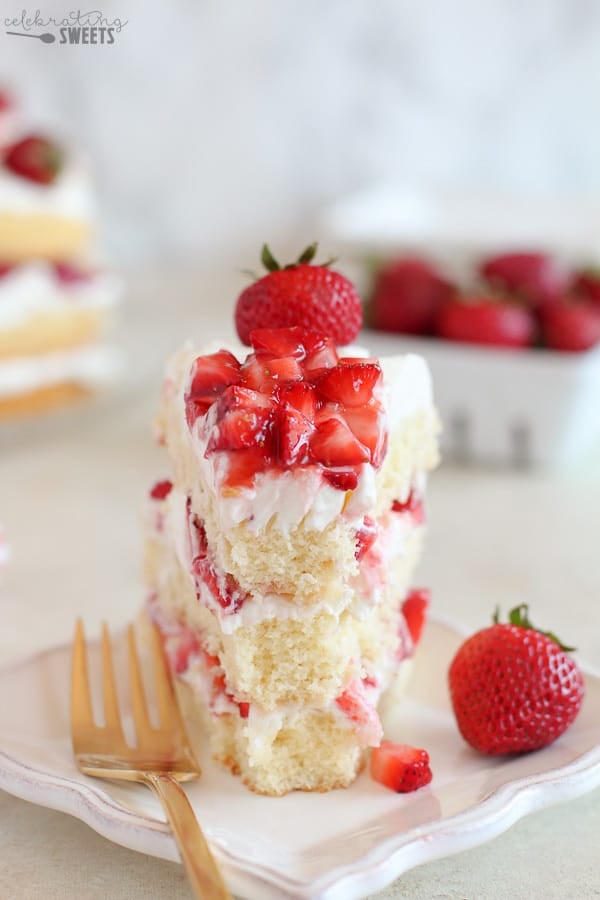 NEVER MISS A RECIPE!
SUBSCRIBE to our free EMAIL LIST – LIKE us on FACEBOOK – Follow on INSTAGRAM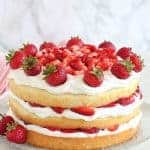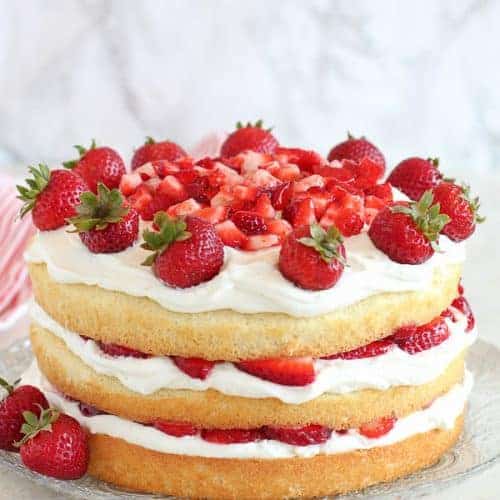 Strawberry Shortcake Cake
A fluffy vanilla sponge cake filled with layers of whipped cream frosting and juicy strawberries. The classic flavors of strawberry shortcake in a rustic, yet elegant layer cake.
Ingredients
Cake:
1 1/2

cups

cake flour

1 1/2

teaspoons

baking powder

1/2

teaspoon

salt

3/4

cup

milk

preferably whole or 2%

3

tablespoons

unsalted butter

1

tablespoon

vanilla extract

1/4

teaspoon

almond extract

optional

3

large eggs

1 1/4

cups

sugar
Filling and Topping:
8

ounces

cream cheese

softened

3/4

cup

powdered sugar

3/4

teaspoon

vanilla extract

2 1/4

cups

heavy whipping cream

chilled

3

cups

sliced or diced strawberries

divided

2

tablespoons

strawberry jam

additional fresh strawberries

for garnish (optional)
Instructions
Cake:
Preheat oven to 350°F. Line the bottoms of three 8-inch round cake pans with a circle of parchment paper, and spray the pans with nonstick spray. Set aside.

In a large bowl, whisk the flour, baking powder and salt together.

In a small saucepan, bring the milk and butter to a boil. Remove from the heat and add the vanilla extract and almond extract (if using).

In a separate bowl, using a hand mixer or stand mixer, beat the eggs and sugar until pale yellow, fluffy, and doubled in volume (several minutes). While still beating, drizzle in the hot milk mixture. Fold in the flour mixture.

Spread the batter in the prepared pans and bake for 11-16 minutes, or until light golden, the center springs back when lightly pressed, and a cake tester comes out clean. Set the pans on a rack to cool. Run the tip of a knife around the edges of the cakes to loosen them, and turn them out of the pans.
Filling and topping:
Combine the strawberries and jam and set aside (these will be used for the filling and topping).

Note: I sliced the strawberries for the filling (about 2 1/2 cups), and I diced the strawberries for the top of the cake (about 1/2 cup). Do both, or one or the other, your choice. You'll need about 3 cups total.

For the whipped cream frosting: Combine the cream cheese, powdered sugar, and vanilla extract in a large mixing bowl or the bowl of a stand mixer. Fit the mixer with the whisk attachment and mix on medium speed until smooth. While the mixture is still whipping, slowly pour in the heavy cream down the side of the bowl. Stop and scrape the bottom and sides of the bowl periodically. Increase the speed and continue whipping until the cream can hold a stiff peak.

Assembly: Place one layer of cake on a platter. Top with whipped cream frosting, then top with about 1 1/4 cups of sliced/diced strawberries. Place another layer of cake on top and repeat. For the third/top of layer of cake, top with whipped cream frosting, then place the remaining diced/sliced strawberries in the center. Decorate the outside with whole strawberries, if desired.



Recipe Notes
Note: There will be enough whipped cream frosting to coat the sides of the cake, if you desire. I chose to leave the sides exposed. Any extra whipped cream frosting makes a great dip for fruit. 
Cake adapted from Food Network
Nutrition Facts
Strawberry Shortcake Cake
Amount Per Serving
Calories 529
Calories from Fat 288
% Daily Value*
Total Fat 32g 49%
Cholesterol 156mg 52%
Sodium 255mg 11%
Potassium 169mg 5%
Total Carbohydrates 53g 18%
Protein 6g 12%
* Percent Daily Values are based on a 2000 calorie diet.
MORE FROM CELEBRATING SWEETS