Creamy Homemade Hot Chocolate. A combination of cocoa powder and chocolate chips make this hot chocolate extra flavorful and delicious! Ready in minutes.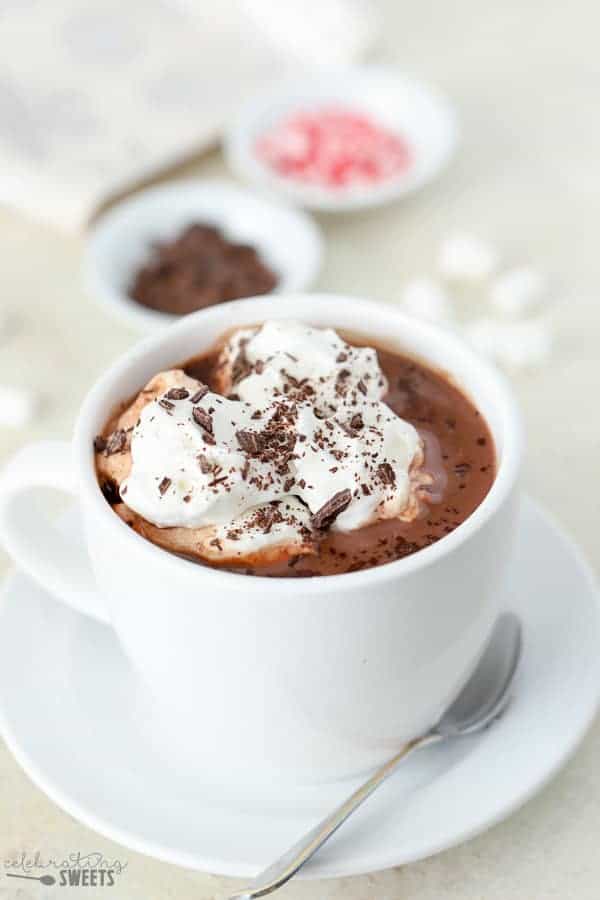 Homemade Hot Chocolate: You sweet, creamy heavenly thing. If you were wondering how I would like to spend every December evening, it is curled up, with my hands wrapped around a warm mug of hot chocolate. Bonus points if that hot chocolate is topped with freshly whipped cream and a heavy sprinkle of chopped dark chocolate.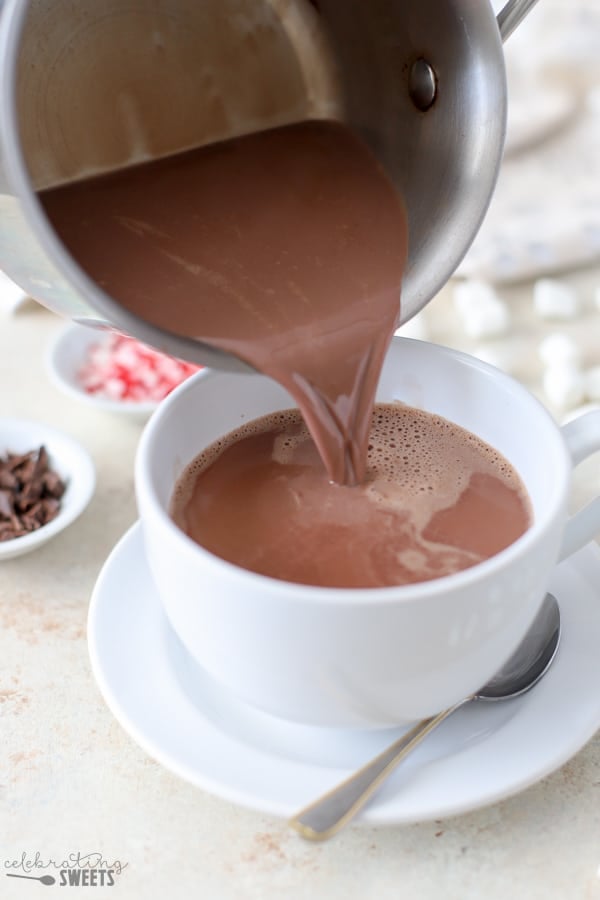 Filed under the list of things I will not consume: frosting from a tub, cool whip, and hot chocolate out of a packet. Friends, it is so incredibly easy to make Homemade Hot Chocolate. Put down that powdery packet! Throw a handful of real ingredients into a saucepan and you will have Homemade Hot Chocolate in minutes! It's simple, delicious, and so much more satisfying than the store-bought stuff.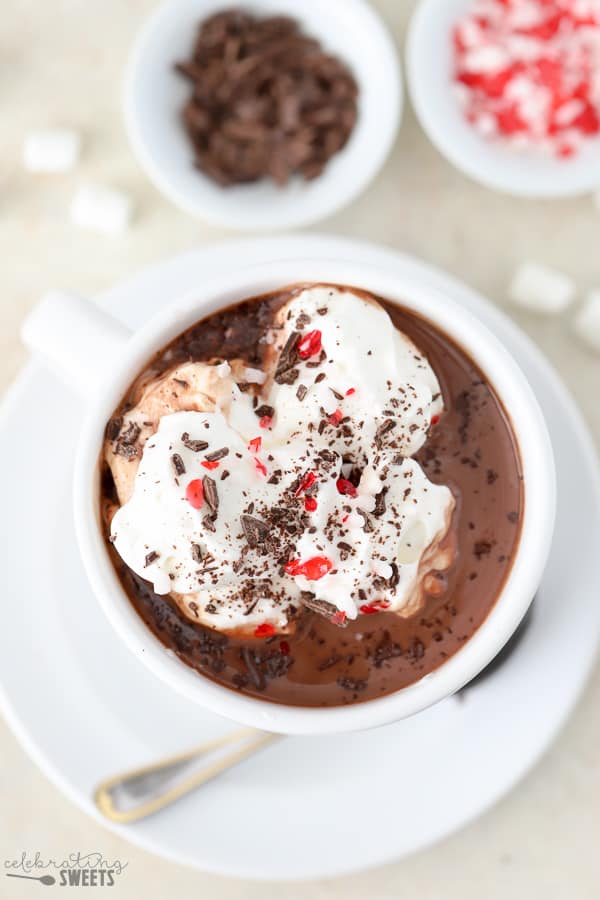 Homemade Hot Chocolate
This recipe is made with a combination of cocoa powder and chocolate chips. The cocoa powder adds the distinct "hot cocoa" flavor, and the chocolate chips melt into the mixture making this drink extra creamy, rich and luxurious. A splash of vanilla extract rounds out all that chocolaty flavor and makes this what I consider the perfect Homemade Hot Chocolate.
Place the milk of your choice in a saucepan over medium-low heat. Using milk instead of water, makes this hot chocolate extra creamy and flavorful. I prefer whole milk or 2% milk, but you can choose any milk that you choose (I've even used unsweetened almond milk).
Whisk in cocoa powder and sugar, and heat until warm.
Once the milk is warm, add chocolate chips, whisking until they melt into the milk.
Add a splash of vanilla extract.
Serve immediately, topped with your favorite garnishes: marshmallows, whipped cream, chopped chocolate, crushed candy canes or more.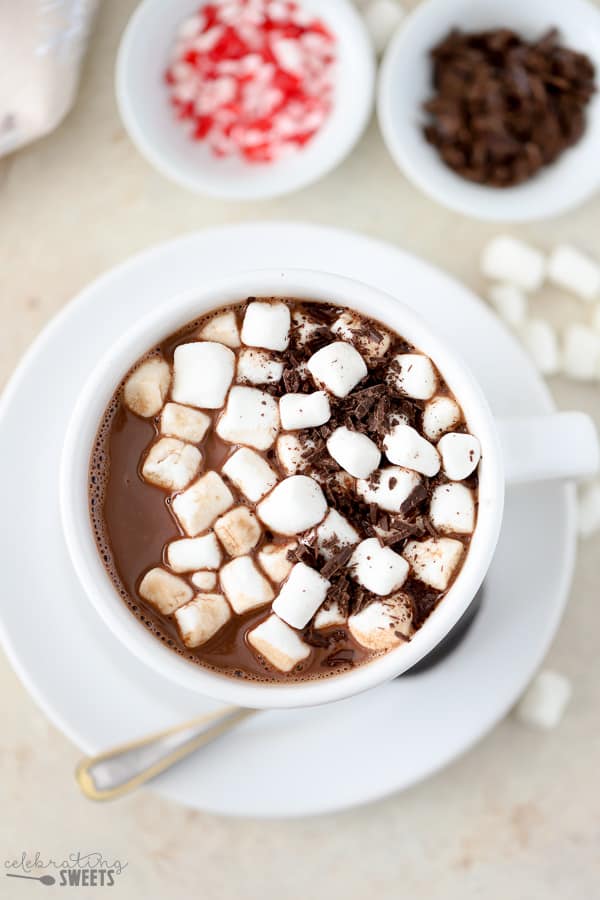 One of the wonderful things about making hot chocolate from scratch is that you can make it exactly the way you want it!
Want it extra rich? Add some half and half.
Want it less sweet? Use bittersweet/dark chocolate chips.
Want it healthier? Use skim milk or almond milk, and reduce the sugar a touch.
Want flavored hot chocolate? Add cinnamon, peppermint extract, a shot of espresso, or a drizzle of caramel sauce.
The options are endless!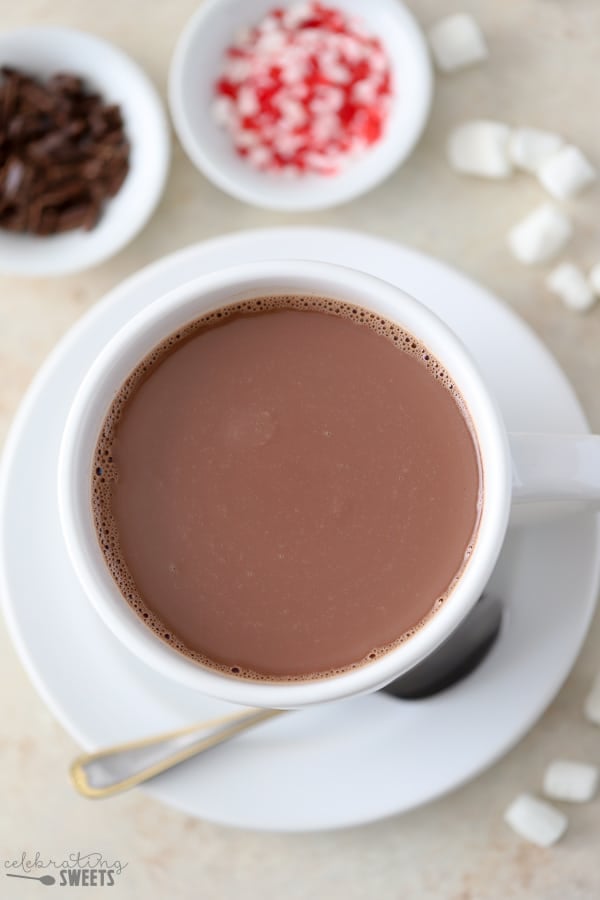 MORE HOT CHOCOLATE RECIPES: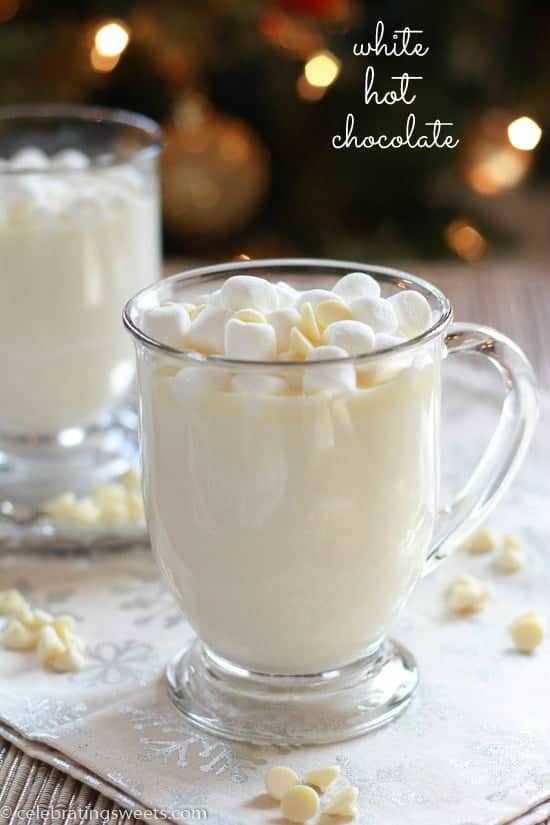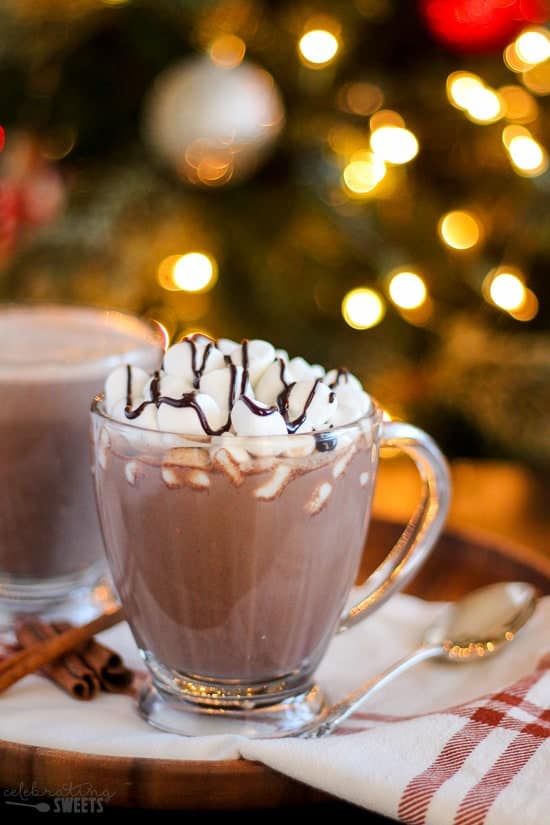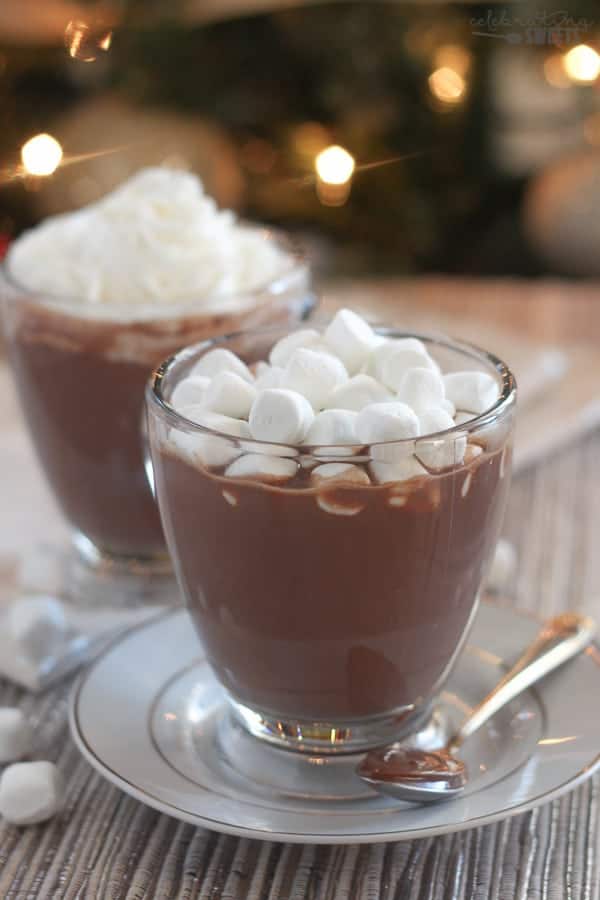 NEVER MISS A RECIPE!
SUBSCRIBE to our free EMAIL LIST – LIKE us on FACEBOOK – Follow on INSTAGRAM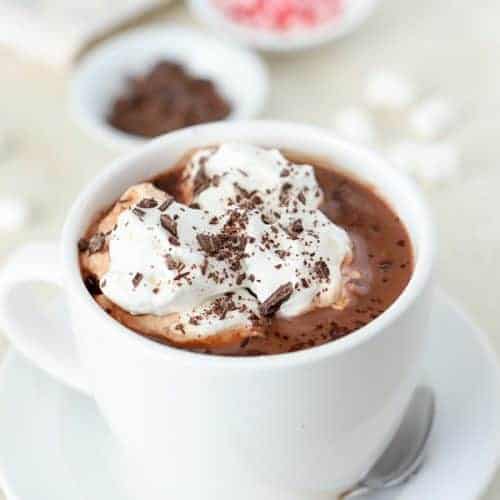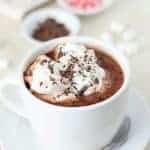 Homemade Hot Chocolate
Creamy Homemade Hot Chocolate. A combination of cocoa powder and chocolate chips make this hot chocolate extra flavorful and delicious! Ready in minutes.
Ingredients
4

cups

milk (preferably whole or 2%)

1/4

cup

unsweetened cocoa powder

1/4

cup

granulated sugar

1/2

cup

bittersweet or semisweet chocolate chips or chopped chocolate bar

1/4

teaspoon

pure vanilla extract
Instructions
Place milk, cocoa powder and sugar in a small saucepan. Heat over medium/medium-low heat, whisking frequently, until warm (but not boiling). Add chocolate chips and whisk constantly until the chocolate chips melt and distribute evenly into the milk. Whisk in vanilla extract, serve immediately.
Nutrition Facts
Homemade Hot Chocolate
Amount Per Serving
Calories 323
Calories from Fat 117
% Daily Value*
Total Fat 13g 20%
Cholesterol 27mg 9%
Sodium 121mg 5%
Potassium 403mg 12%
Total Carbohydrates 42g 14%
Protein 9g 18%
* Percent Daily Values are based on a 2000 calorie diet.