The BEST Homemade Brownies! Moist, fudgy, chewy, and loaded with chocolate! This easy one-bowl recipe comes together in minutes. Use our tips and tricks to get this recipe perfect every time.
If your new year's resolution is to eat more chocolate, we are here to help. This is an updated version of our favorite Homemade Brownies, and they are better than ever! If you like a classic rich and fudgy brownie this is it! Prefer a flavored brownie? Try our Peanut Butter Brownies, Cream Cheese Brownies, or Caramel Brownies.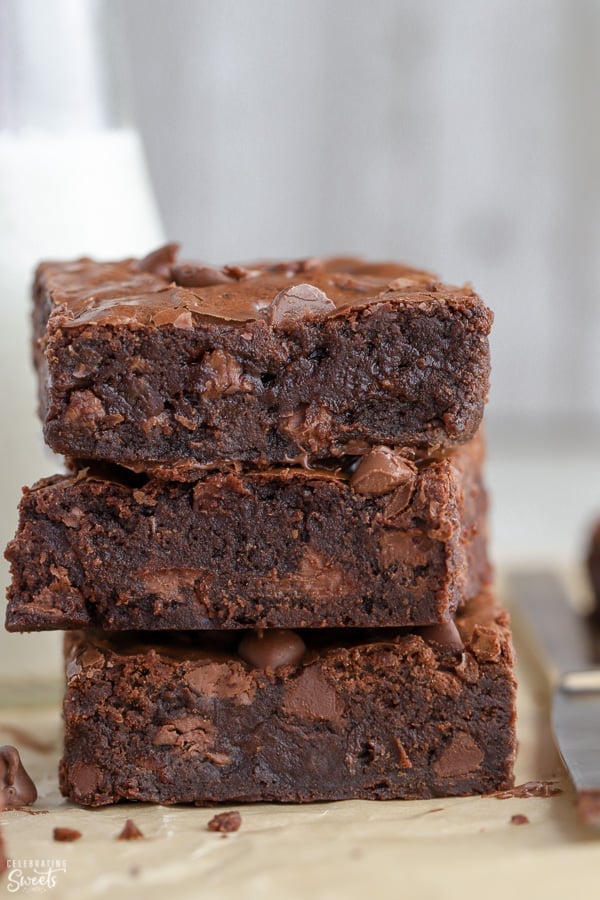 What makes these brownies the best?
Ease: The brownie batter comes together in one bowl in less than 15 minutes.
Fudgy: If you're a fan of fudgy brownies this recipe is for you! These bake up moist and chocolaty with a rich fudgy flavor and texture.
Shiny crinkly tops: These brownies have the shiny crinkly tops that you typically see in boxed brownies. How do we do it? Read more about the method below.
Moist and chewy: These brownies are moist and fudgy with a hint of chewiness. The edges bake up more chewy than the center.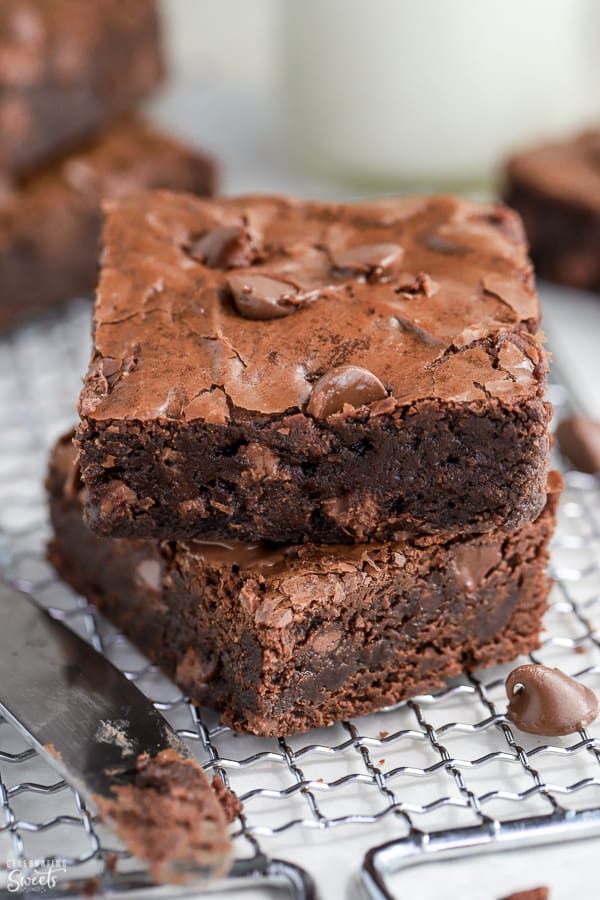 Tips for Homemade Brownies:
Do NOT over bake: Brownies baked too long will end up dry and crumbly. Start checking the brownies 5-10 minutes before the recipe says that they should be done. They are done when the edges are set and a toothpick inserted into the center comes out with fudgy crumbs, but no raw batter. There are a lot of melty chocolate chips in these brownies, so don't mistakenly think that melted chocolate means that they're underdone.
Add Chocolate Chips: Adding chocolate chips to brownie batter helps to ensure a fudgy brownie. Those chips melt slightly and make these super chocolaty. Use your favorite chocolate chips: milk chocolate for a sweeter brownie, semisweet for a classic flavor or bittersweet for a deep, dark chocolate flavor. Sometimes I even use a combination of chips.
Line your baking pan: Line your baking pan with foil or parchment paper for easy removal and clean up. You can lift the whole batch of brownies right out of the pan by lifting the overhanging foil or parchment paper.
Use melted butter (if you can): I recently started using melted butter in place of vegetable oil in these brownies and I love them even more. I highly recommend using melted butter. If you can't (due to an allergy or another reason) you can still use vegetable/canola oil and get a great result.
What Makes Brownies Fudgy?
Several things make brownies fudgy instead of cakey. These Homemade Brownies fall into the "fudgy" category, here's why:
Fat to flour ratio: These brownies have a high fat to flour ratio. They have more fat (oil, chocolate chips) than flour. This creates a dense, fudgy texture.
No leavening: These brownies contain no baking soda or baking powder, which means there is little-to-no rise when they bake.
Chocolate Chips: This batter contains a whole cup of chocolate chips. While baking, the chocolate chips melt just slightly, creating a moist, fudgy texture. Don't skip the chocolate chips – they add a lot to this recipe.
How to get shiny and crinkly crust
If you've made this recipe before I updated it (prior to January 2021) you will know that these brownies taste incredible. My only "complaint" about them was that the top bakes up a bit dull. I worked to maintain the flavor and fudginess of the recipe but added a shiny/crinkly/glossy top. The following helped with this:
Combining granulated sugar and hot melted butter and allowing this mixture to sit for about 5 minutes. The heat from the butter will start to dissolve the sugar.
Beating the butter/sugar with eggs for a full 30 seconds to be sure that they are well incorporated.
Once the batter is fully combined stirring it vigorously for several turns around the bowl. The batter should be glossy and beautiful – we are on the right track!
Chocolate chips in the batter. According to the experts at King Arthur Flour, adding chocolate chips into the brownie batter helps to achieve the shiny tops. This also helps with fudginess, too.
So there you have it – the best Homemade Brownies! Chewy edges, dense and fudgy centers and a shiny crackly top. Pure brownie perfection.
SUBSCRIBE to our free EMAIL LIST – LIKE us on FACEBOOK – Follow on INSTAGRAM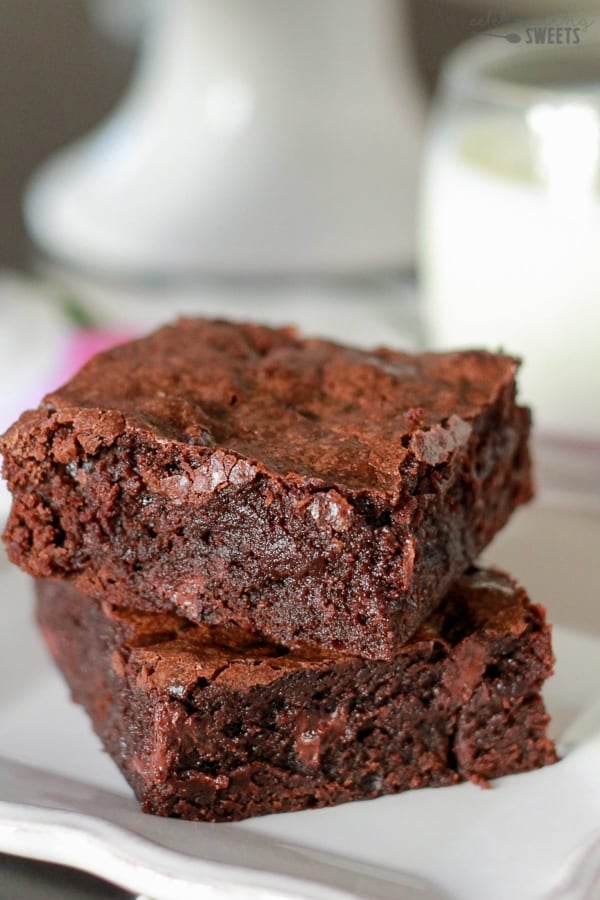 More Brownie Recipes
BROWNIE IN A MUG
CREAM CHEESE BROWNIES
COCONUT BROWNIES
ZUCCHINI BROWNIES
SMALL BATCH BROWNIES
PEANUT BUTTER BROWNIES
STRAWBERRY BROWNIES
GERMAN CHOCOLATE BROWNIES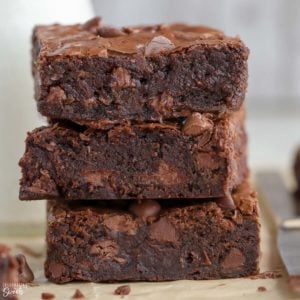 Fudgy Homemade Brownies
The BEST Homemade Brownies! Moist, fudgy, chewy, and loaded with chocolate! This easy one-bowl recipe comes together in minutes. 
Print
Pin
Save
Saved!
Ingredients
½

cup

melted unsalted butter*

,

still warm/hot

1

cup

granulated sugar

2

large

eggs

2

tablespoons

water

2

teaspoons

pure vanilla extract

⅔

cup

unsweetened cocoa powder

⅔

cup

powdered sugar

,

see note

¾

cup

all purpose flour

1

cup

chocolate chips

½

teaspoon

kosher salt
Instructions
Preheat oven to 350°F. Line an 8×8 (preferred) or 9×9 square pan with foil or parchment paper, leaving a couple inches of overhang on two sides (this will allow you to lift the whole tray of brownies out of the pan for easy removal). Grease the foil/parchment.

Combine granulated sugar and hot butter in a large bowl. Stir it briefly then allow it to sit undisturbed for 5 minutes. The heat from the butter will begin to dissolve the sugar (this helps make a shiny/crackly crust), the sugar will not fully dissolve. After 5 minutes, whisk the butter and sugar vigorously for 30 seconds. Add eggs, water, and vanilla extract, whisking again for about 30 seconds. Tap all the excess batter off the whisk and remove the whisk from the bowl.

Sprinkle cocoa powder, powdered sugar, flour, chocolate chips, and salt over the wet ingredients. Use a rubber/silicone spatula or wooden spoon to stir the mixture until it is glossy and well combined.

Pour the batter into the prepared pan and smooth the top. Bake the 8×8 pan for for 28-33 minutes (begin checking at 28 minutes). Bake the 9×9 pan for 20-25 minutes (begin checking at 20 minutes). The brownies are done when a toothpick inserted into the center comes out without raw batter on it, moist fudgy crumbs are OK. Be careful not to over bake. Remove from the oven and place on a cooling rack. 
Notes
*If you can't use melted butter you can replace it for an equal amount of vegetable or canola oil. I recommend heating the oil until really warm and using it in place of the melted butter in the recipe. 
Pan size: The brownies pictured are made in an 8×8 pan (my preference). I have also made these brownies in a 9×9 pan and they come out great, just thinner than those pictured.  
Powdered sugar: I started reducing the powdered sugar from ⅔ to ⅓ cup and I prefer the slightly less sweet taste. Feel free to do either measurement based on how sweet you like your brownies.
Bake time: Since ovens vary, and different bakeware can affect the cook time (metal pans cook faster than glass, for instance), it's important to keep a close eye on these as you approach the end of the baking time. When you insert a toothpick into the center, it should come out without raw batter on it (fudgy crumbs are OK). You might need to do the toothpick check in a few different places because you could hit a melted chocolate chip. If the brownies are not quite done, set a timer and check them every 3 minutes until they are.
Espresso powder: Optional, add 1-2 teaspoons of instant espresso powder along with the dry ingredients for an even more intense chocolate flavor.
RECIPE UPDATED JAN 2021: This recipe has a similar ingredient list as the previous recipe, but I changed the method of preparation to make the crust more shiny/crinkly. Flavor and texture are close to what they were before, but if you'd prefer the original recipe it is HERE. 
Nutrition
Calories:
287
kcal
|
Carbohydrates:
42
g
|
Protein:
4
g
|
Fat:
13
g
|
Saturated Fat:
8
g
|
Cholesterol:
54
mg
|
Sodium:
188
mg
|
Potassium:
93
mg
|
Fiber:
2
g
|
Sugar:
33
g
|
Vitamin A:
315
IU
|
Vitamin C:
1
mg
|
Calcium:
32
mg
|
Iron:
1
mg
Nutritional Information is an estimate based on third-party calculations and may vary based on products used and serving sizes.
Tried this recipe?
Leave a comment and rating below!