Rich fudgy brownies filled with peanut butter cups and topped with a peanut butter swirl.
My world has been revolving around chocolate lately. And it is not a bad thing, my friends. I spent the weeks leading up to Valentine's Day baking with chocolate, then I spent Valentine's weekend consuming chocolate (duh), and here I am, on a random Thursday, trying to convince you to make brownies. But not just any brownies – Peanut Butter Swirl Brownies.
I realized that although I have shared many brownie recipes (6 and counting), I had yet to share a brownie recipe featuring peanut butter. And, hello, chocolate and peanut butter are only one of the all-time best flavor combinations ever! So, I took my go-to brownie recipe, filled it with chopped peanut butter cups, and then topped it with swirls of peanut butter. Decadence to the max. Fudgy, dense, rich, and outrageous. I'm sorry it took me so long to do this.
Grab a cold glass of milk and cut yourself a big square. Brownies make everything better. I should totally make that into a bumper sticker.
NEVER MISS A RECIPE!
Subscribe to receive my recipes (free!) to your inbox
Like Celebrating Sweets on Facebook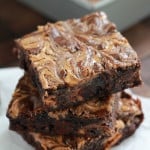 Peanut Butter Swirl Brownies
Rich fudgy brownies filled with peanut butter cups and topped with a peanut butter swirl.
Ingredients
2/3

cup

unsweetened cocoa powder

1 1/2

cups

granulated sugar

1/3

cup

powdered sugar

3/4

teaspoon

salt

1

cup

all purpose flour

1/2

teaspoon

espresso powder or instant coffee

optional

1/2

cup

semisweet chocolate chips

3

eggs

1/2

cup

vegetable oil

2

tablespoons

water

1/2

cup

chopped peanut butter cups

1/2

cup

creamy peanut butter

not natural
Instructions
Preheat oven to 350°F. Butter a 9x9 square pan. Alternately, you can line the pan with foil, leaving a couple inches of overhang on two sides (this will allow you to lift the whole tray of brownies out of the pan for easy removal). If using foil, butter or spray it.

In a large bowl combine cocoa powder, sugars, salt, flour, espresso powder, and chocolate chips. Whisk until combined. Add eggs, oil, and water and stir until combined. Fold in peanut butter cups.

Pour the batter into the prepared pan and smooth the top. Drop dollops of peanut butter on the top of the brownies, and use a knife to swirl it around. Bake for about 30 minutes. The brownies are done when the top is dry and a toothpick inserted into the center comes out without raw batter on it (there may be some fudgy crumbs on the toothpick - that's OK). Be careful not to over bake. Remove from the oven and place on a cooling rack. Cool completely.
Looking for more chocolate & peanut butter recipes?
Peanut Butter Cup Stuffed Cupcakes

Chocolate Peanut Butter Brownie Trifles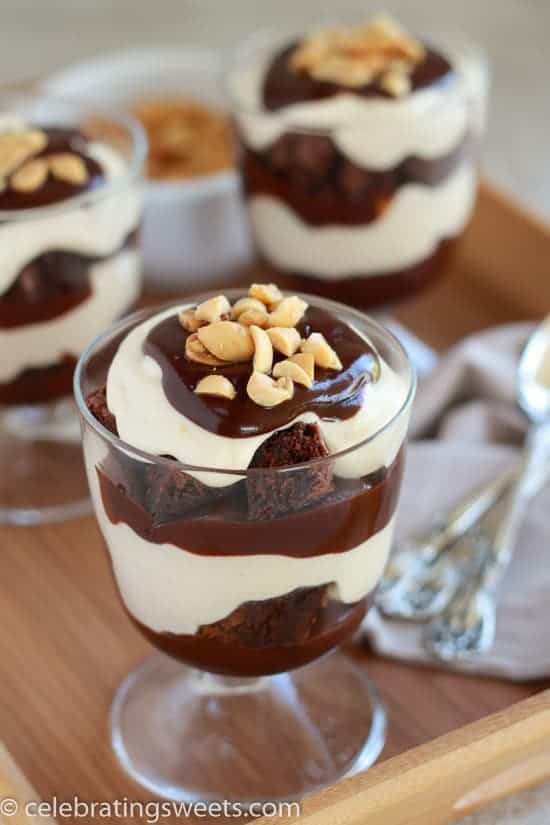 Skinny Chocolate Peanut Butter Banana Smoothie