As Christmas approaches I start to get in the mood for all things chocolate and peppermint. I know it's only November and Christmas is over a month away, but the stores are playing Christmas music and Starbucks has rolled out their holiday cups, so I'm just gonna to go with it. When I saw this recipe, I knew I had to make these cookies immediately. They are so simple and delicious. If you've ever had a Thin Mint Girl Scout cookie you will notice the similarities immediately – a thin, crunchy chocolate cookie with a smooth chocolate-peppermint coating. The fun thing about making these at home is that you can customize them however you want. You can add some garnishes (ground cookies or chopped candy canes?) to the tops and you can choose the chocolate that you want to dip them in. I used semi-sweet, but milk chocolate or dark chocolate would work also. I even drizzled a few with melted white chocolate. Get creative and have fun with these. Enjoy!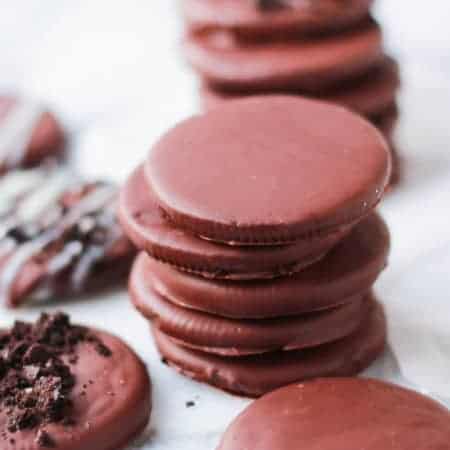 3 Ingredient Chocolate Peppermint Cookies (Homemade Thin Mints)
Chocolate wafer cookies with a chocolate peppermint coating. Only 3 ingredients.
Ingredients
16

chocolate wafer cookies or 8 Oreos

1

cup

chocolate chips

I used semi-sweet

1/4

teaspoon

pure peppermint extract

or more to taste

Optional garnishes: crushed Oreos, crushed candy canes or mini chocolate chips
Instructions
If using Oreos, twist the sandwiches apart and use a butter knife to scrape out the cream filling. You can discard the filling, or eat it. You won't need it for the cookies. Split 8 Oreos to make 16 chocolate cookies. Set the cookies aside.

Place a piece of wax or parchment paper on a baking sheet and set it aside. You will place the cookies here to cool.

Set a heat proof bowl over a pot of simmering water and dump the chocolate chips into the bowl. Using a rubber spatula, stir the chocolate chips until they melt completely and you have a smooth, glossy chocolate sauce. Stir in the peppermint extract. Start with 1/4 teaspoon, stir it in and taste it. If you'd like more peppermint flavor, stir in a drop or two at a time until you reach the peppermint flavor that you prefer. I leave the bowl of chocolate over the simmering water during the dipping process because it needs to stay smooth and melted.

Working with one cookie at a time, submerge it into the chocolate sauce and use a fork to flip it over and coat all sides. Once the cookie is coated in chocolate, use the fork to lift it out of the chocolate and tap the fork several times on the side of the bowl, allowing the extra chocolate to run off the cookie and back into the bowl. This will also help smooth out the tops of the cookie. Place the cookie on the parchment paper and continue with the rest of the cookies*. Once all the cookies have been dipped, you can transfer the baking sheet to the fridge for faster cooling or you can leave it at room temp for a couple hours, until the chocolate firms up
Recipe Notes
*If you'd like to add garnishes to the tops of your cookies, do so right after they come out of the melted chocolate. This will ensure that they stick to the cookies.

Recipe adapted from Top With Cinnamon