Try this sweet and creamy Grasshopper drink! A mint-chocolate flavored cocktail made with only three ingredients.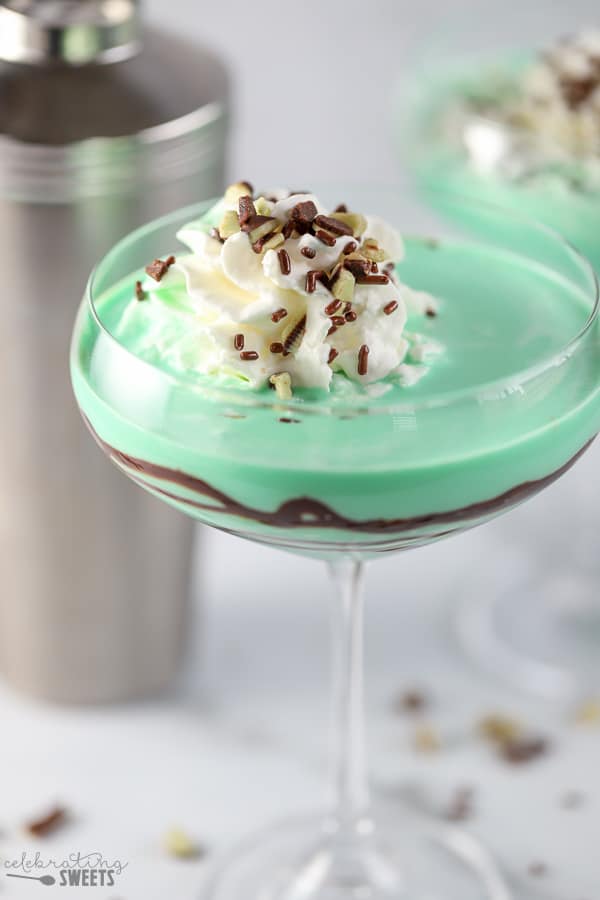 I might be on a never-ending quest to turn cocktails into dessert. Because, once you drop a scoop of ice cream into your White Russian or dollop Whipped Cream onto your Grasshopper, there is no turning back. Boozy dessert-like cocktails are right up my alley. I even add a secret ingredient to my Aperol Spritz to make it extra smooth and sweet.
If you're looking to drink your dessert, this is the cocktail for you! It's sweet and creamy and it tastes like a grown up version of a mint-chocolate chip milkshake (sold!). This cocktail is made with only three ingredients. I'll give you the classic recipe, but I highly recommend tasting as you go and adjusting to suit your taste.
Grasshopper Cocktail Ingredients:
Crème de menthe: A sweet mint-flavored liqueur. Available in both white or green, you definitely want to go with with the vibrant green version to give your Grasshopper the classic vibrant color.
Crème de cacao: A sweet chocolate-flavored liqueur. Available in both dark or white (clear). You'll want to choose the clear version for this recipe so that the green color from the crème de menthe will show up.
Half and half or cream: The two liqueurs get cut with half and half or cream. I prefer half and half since it's slightly less thick and rich, but choose whichever you'd like.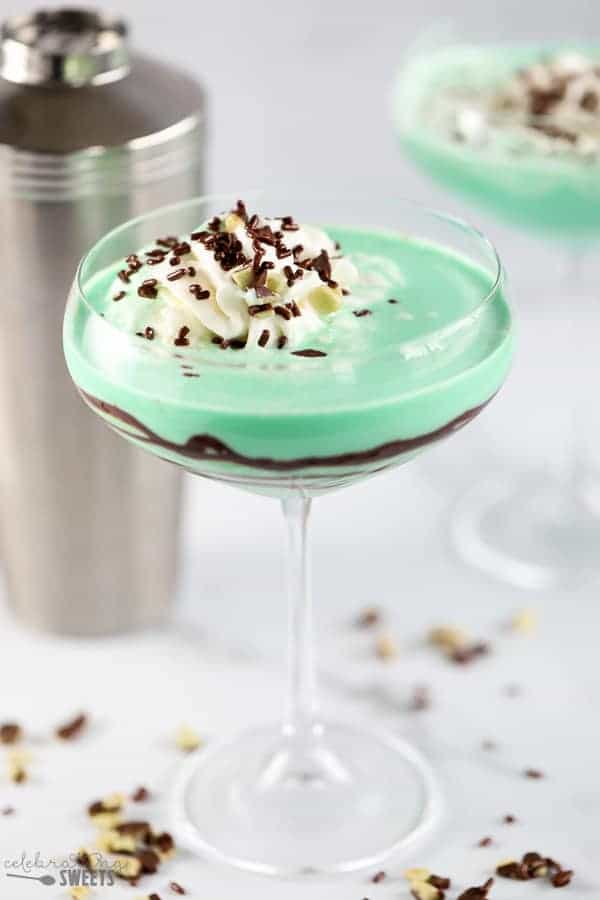 A traditional Grasshopper recipe uses equal parts crème de menthe, crème de cacao, and cream. Pour them into an ice-filled cocktail shaker, give it a few shakes and strain it into a glass. Feel free to adjust the proportions to suit your taste. For example, I prefer 2 parts half and half, 1 part crème de menthe and 1 part crème de cacao. Once you have the ingredients you can play around them until you get your perfect cocktail.
Make your Grasshopper extra pretty by adding some of the following garnishes: swirl chocolate sauce into the inside of your glass, top the Grasshopper with whipped cream, chopped Andes candies, chocolate sprinkles, chocolate shavings, or a sprig of fresh mint.
Frozen Grasshopper Drink (Grasshopper with Ice Cream):
Grasshopper Milkshake: Turn this cocktail into a milkshake! Add the crème de menthe, crème de cacao, milk, and a few scoops of mint-chip or vanilla ice cream into a blender. Give it a whirl and you'll have a creamy, boozy and incredibly delicious dessert. It goes down very, very smooth (don't say I didn't warn ya).
Flying Grasshopper Cocktail:
Want to make your cocktail even stronger? Turn it into a Flying Grasshopper by adding 1 part vodka. Plain vodka or vanilla vodka would both work with the chocolate and mint flavors. I've also seen mention of adding Kahlua to a Grasshopper, which would impart a subtle vanilla-coffee flavor. I haven't that tried yet, but as I am typing this I realize that I have everything I need to try it. I'm off to go experiment. Wish me luck!
MORE COCKTAIL RECIPES – STRAWBERRY MARGARITA – STRAWBERRY SANGRIA – WINE SLUSHIES – CHAMPAGNE COCKTAIL 
NEVER MISS A RECIPE! SUBSCRIBE to our free EMAIL LIST – LIKE us on FACEBOOK – Follow on INSTAGRAM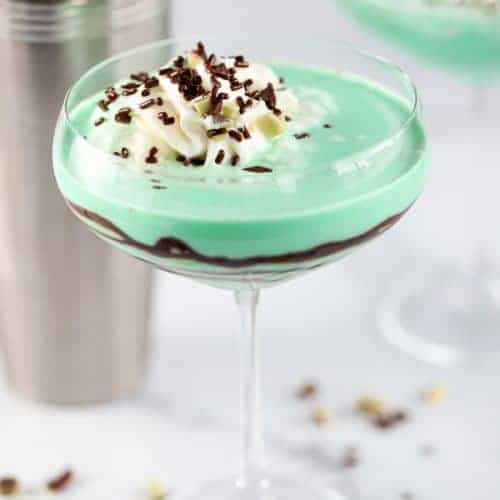 Grasshopper Drink
A sweet and creamy mint-chocolate flavored cocktail made with only three ingredients. This Grasshopper Drink couldn't be easier!
Ingredients
1

ounce

crème de menthe

1

ounce

crème de cacao white/clear

2

ounces

half and half

or heavy cream

Chocolate sauce, whipped cream, chocolate sprinkles and/or chopped andes candies

for garnish
Instructions
Combine all ingredients in an ice-filled cocktail shaker, and give it a few shakes.

Drizzle chocolate sauce around the inside of a stemmed cocktail glass. Pour in grasshopper. Top with whipped cream sprinkles and candy, if desired.
Recipe Notes
Adjust the portions of ingredients to suit your taste.
Nutrition Facts
Grasshopper Drink
Amount Per Serving
Calories 277
Calories from Fat 54
% Daily Value*
Total Fat 6g 9%
Cholesterol 20mg 7%
Sodium 24mg 1%
Potassium 73mg 2%
Total Carbohydrates 29g 10%
Protein 1g 2%
* Percent Daily Values are based on a 2000 calorie diet.
The recipe originally appeared on Real Housemoms where I am a contributor.