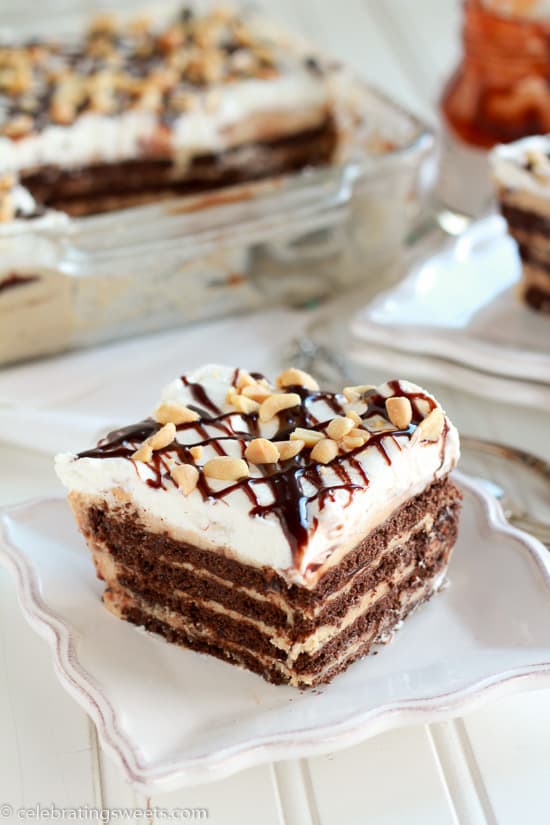 Are you  familiar with icebox cakes? They're fairly new to me (um, where have these been my whole life?). An icebox cake is a no-bake "cake" composed of cookies or graham crackers layered with whipped cream. The cake sits in the refrigerator until the cream softens the cookies to an almost cake-like consistency. The longer the cake sits in the refrigerator, the softer and more cakey the cookies become. A typical icebox cake is fairly plain, but I turned things up a notch and I came up with this Peanut Butter Fudge Icebox Cake.
It's four layers of chocolate graham crackers, peanut butter cream, and hot fudge sauce. The whole thing is topped with freshly whipped cream, salted peanuts, and more hot fudge.
I could swan dive right into that bowl of peanut butter cream. Doesn't it look SO good?
I should warn you that this icebox cake is seriously addictive. It's creamy, and gooey, and super decadent. If you're a fan of chocolate and peanut butter, you will go crazy for it. There was a point where I stood over the kitchen counter, fork in hand, and literally could not stop eating this. I said, "one more bite" at least dozen times. Could. Not. Stop.
I'm sharing my recipe at Julie's Eats & Treats. Head over to check it out.