Pumpkin Pancakes with Pecan Praline Syrup – Lightly spiced pumpkin pancakes topped with a homemade buttery pecan praline syrup.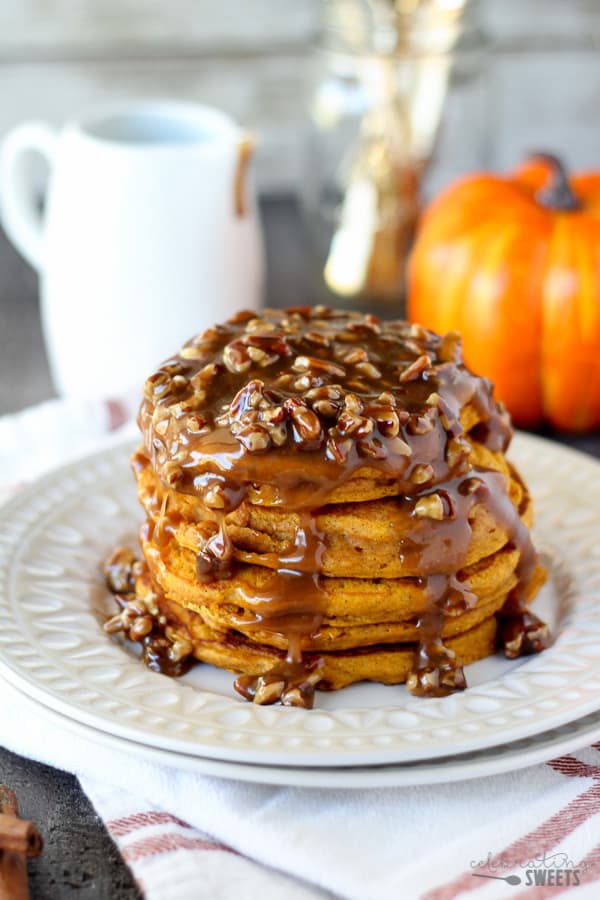 Question… How do you feel about fluffy spiced pumpkin pancakes stacked high and drowned in pecan praline syrup?
Are you licking the screen? Of course you are. That's why we're friends.
Pumpkin Pancakes
I'm bringing you the best pumpkin pancakes – the perfect fall breakfast. Let's do this!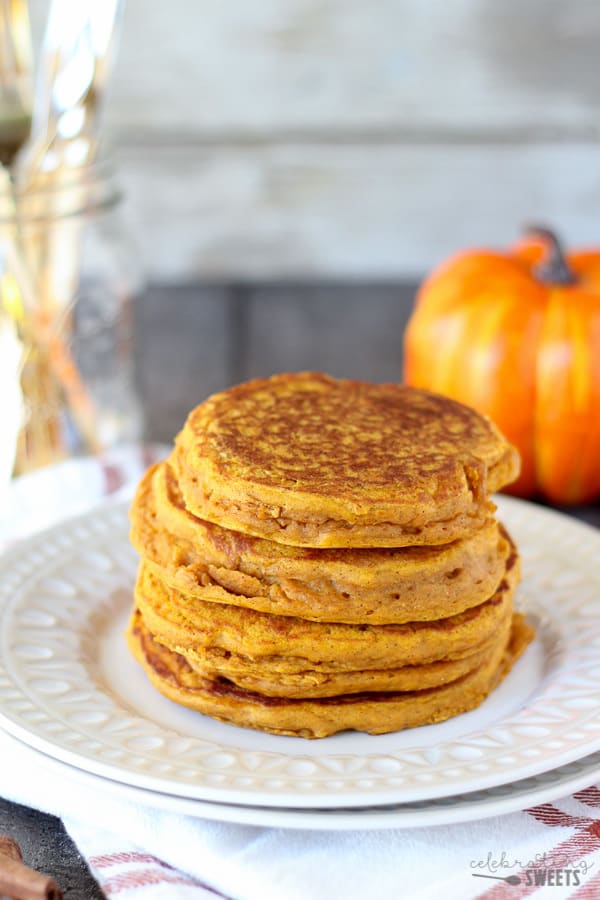 Let's start at the top. This recipe started with the pecan praline syrup. I saw Bobby Flay make it on his show, Brunch at Bobby's (love that show, by the way). As soon as I saw that syrup I knew I had to have it. He served the pecan praline syrup with waffles, but since I am pretty much always looking for a reason to avoid pulling out my waffle maker, I decided to swap the waffles for PUMPKIN PANCAKES.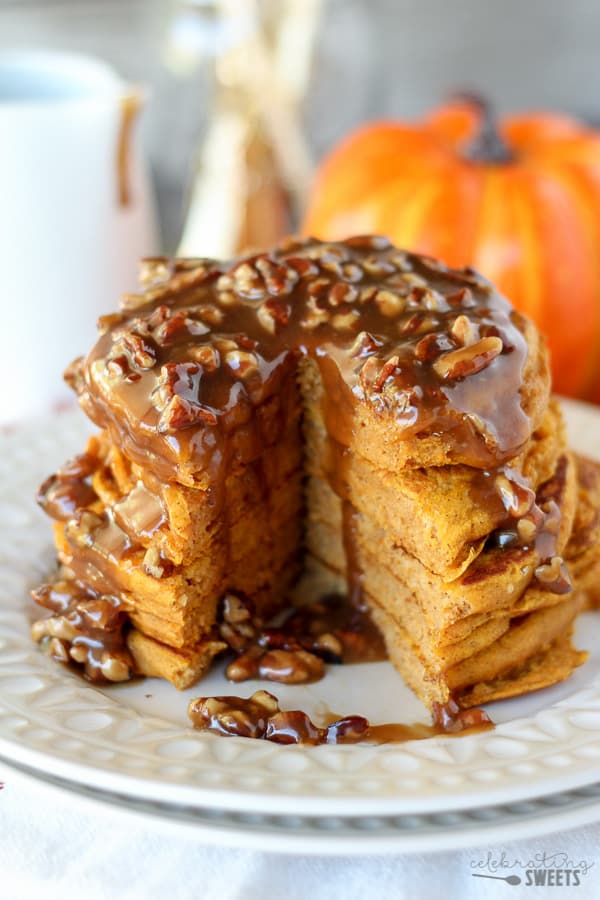 This syrup is all that you would imagine it to be. Sweet, buttery, and caramel-y, with the crunch of pecans and a slight hint of salt. It's rich and decadent, and a sure fire way to improve your morning pancake game.
I mean, let me just be honest, I would probably eat my own arm if it was covered in this syrup. But, since arm-eating is frowned upon let's just pour this beautiful syrup over pumpkin pancakes. It is fall after all. Well, almost.
The syrup was the perfect compliment to spiced pumpkin pancakes. The crunchy pecans along with the tender and moist pancakes made a delicious combo!
These pumpkin pancakes are fantastic on their own, too. If you'd like something a little lighter, skip the homemade syrup and just have the pancakes. My family gobbled them up.
NEVER MISS A RECIPE!
Subscribe to receive my recipes (free!) to your inbox
Like Celebrating Sweets on Facebook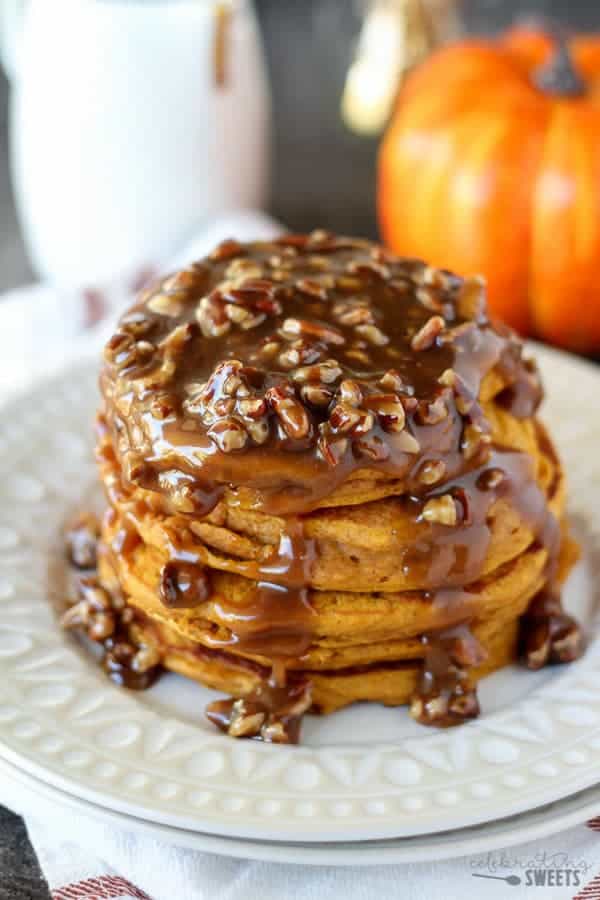 MORE TASTY BREAKFAST RECIPES:
BANANA BROWN SUGAR PANCAKES
PUMPKIN FRENCH TOAST CASSEROLE
APPLE FRENCH TOAST CASSEROLE
BLUEBERRY BUTTERMILK PANCAKE CASSEROLE
Pumpkin Pancakes with Pecan Praline Syrup
Lightly spiced pumpkin pancakes topped with a homemade pecan praline syrup.
Ingredients
Pumpkin pancakes:
1

cup

flour

(I used half all purpose and half whole wheat but you can use a full cup of all purpose)

2

teaspoons

baking powder

1/4

teaspoon

salt

1 1/2

teaspoons

pumpkin pie spice

2

tablespoons

brown sugar

1

egg

1

cup

milk

1

tablespoon

vegetable or canola oil

3/4

cup

pumpkin puree
Pecan praline syrup:
1/2

cup

brown sugar

2

tablespoons

butter

pinch of salt

1/3

cup

heavy cream

1/4

cup

chopped

toasted pecans
Instructions
For the pancakes:
Whisk flours, baking powder, salt and pumpkin pie spice in a bowl and set aside.

In a large bowl, whisk the brown sugar, egg, milk, oil and pumpkin puree until combined.

Mix the flour ingredients into the wet ingredients, stirring or whisking until just combined.

Using a 1/4 or 1/3 measuring cup, pour the batter onto a greased skillet or griddle set at medium-low heat. Cook on one side until bubbles evenly form, then flip and cook on the other side until golden brown.
For the syrup:
In a small saucepan, combine the brown sugar, butter and salt. Bring to a simmer and cook for 3 minutes, whisking frequently. Add the cream and cook for an additional minute, whisking constantly. Off the heat, fold in the chopped pecans and serve immediately. This sauce will firm up as it cools. If you need to keep it warm I suggest keeping it on the stove over very low heat (whisking occasionally), or in a double boiler.
Recipe Notes
Pecan Praline Syrup adapted from Bobby Flay
Nutrition Facts
Pumpkin Pancakes with Pecan Praline Syrup
Amount Per Serving
Calories 240
Calories from Fat 99
% Daily Value*
Total Fat 11g 17%
Cholesterol 41mg 14%
Sodium 157mg 7%
Potassium 212mg 6%
Total Carbohydrates 31g 10%
Protein 3g 6%
* Percent Daily Values are based on a 2000 calorie diet.