Apple Dumplings – Tender cinnamon apples wrapped in a fluffy biscuit and smothered in a maple-brown sugar sauce. An easy fall breakfast or dessert.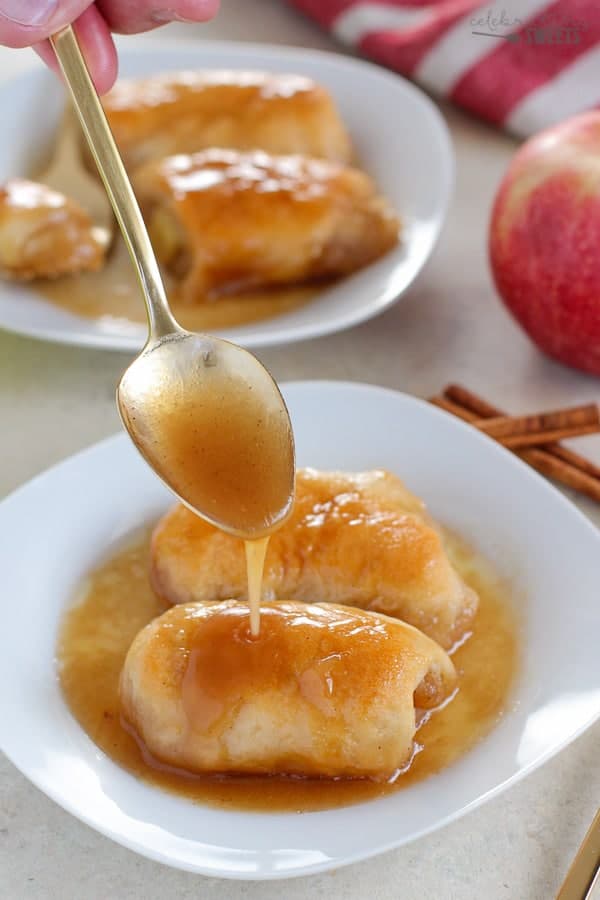 I'm bringing you Apple Dumplings for the first official week of FALL! Disclosure: I have technically been celebrating fall since the calendar turned to September (sshhh).  
These here are the BEST EVER Apple Dumplings. I played around with this recipe multiple times to get it absolutely perfect, and, gah! I am so freaking happy with how these came out. Fluffy apple-filled pastry covered in a maple-brown sugar sauce. Yes, yes, yes! We are doing this.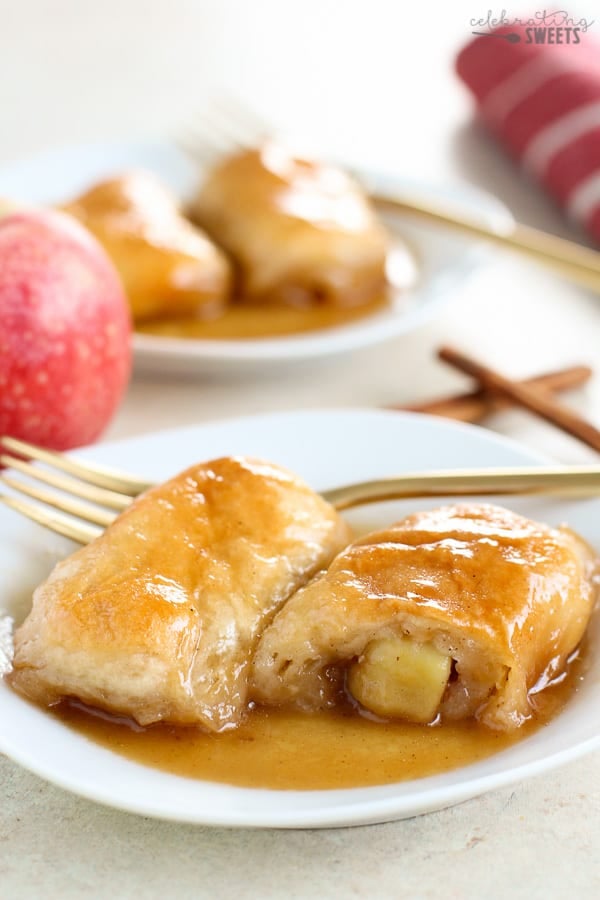 Bonus: We aren't using any odd ingredients, like Mountain Dew or 7UP. Why do so many apple dumpling recipes have us pour soda over our apple dumplings? Blech. Instead of soda, I make the tastiest mixture of butter, maple syrup, brown sugar, and vanilla to cover every inch of these beautiful dumplings.
MORE APPLE RECIPES: STUFFED BAKED APPLES – APPLE BUNDT CAKE – APPLE FRENCH TOAST CASSEROLE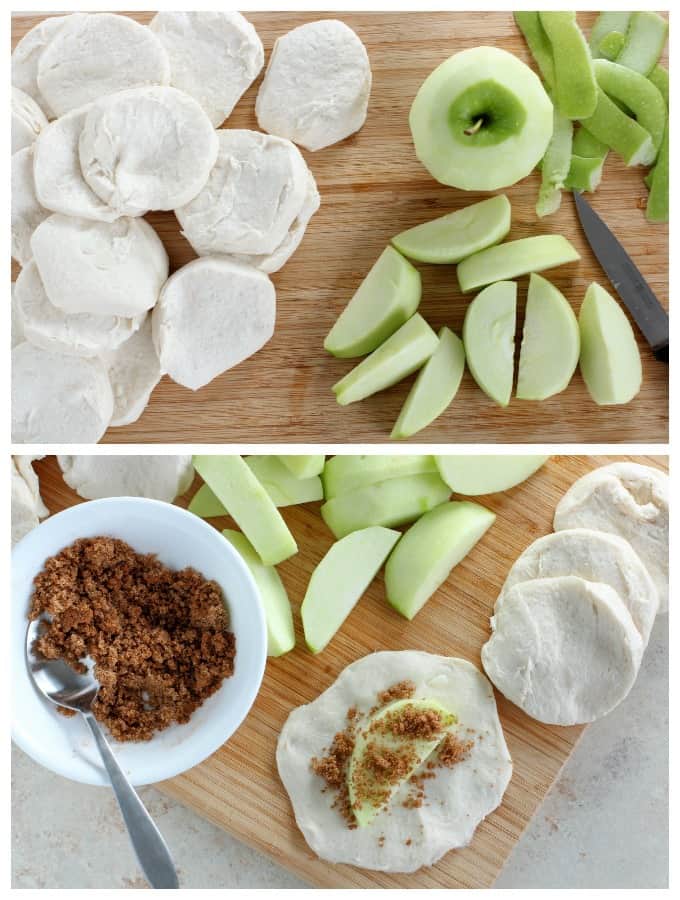 Apple Dumplings
Canned Biscuits: This is the "shortcut" ingredient that makes this recipe super easy. I love that they bake up perfectly every time. I use biscuits labeled "flaky," and I prefer brands that do

not

use hydrogenated oils (Annie's and Immaculate are my two favorite brands). Each biscuit will get split in half horizontally, so one can of 8 biscuits will yield 16 dumplings.

Apples: You will need two apples for this recipe. Use your favorite baking apples. I have made these with Granny Smith and Honeycrisp, and they were equally delicious. Peel each apple and cut it into 8 equal slices. Each apple slice will get sprinkled with brown sugar and cinnamon and tucked inside a biscuit.
Sauce: A quick mixture of water, butter, maple syrup, brown sugar, and vanilla gets simmered on the stovetop. The warm sauce gets poured over the dumplings before baking. The sauce thickens slightly and the dumplings absorb some of the sauce. Also (because I have priorities), I made sure there is PLENTY of sauce left in the bottom of the baking dish to spoon over the cooked dumplings.
These Apple Dumplings can be breakfast or dessert. Or maybe even a random autumn afternoon snack alongside a piping hot cup of tea? Yes, that will most definitely get me through an afternoon slump.
It's amazing how such a simple list of ingredients can create something so delicious! Happy fall (officially)!
NEVER MISS A RECIPE!
SUBSCRIBE to our free EMAIL LIST – LIKE us on FACEBOOK – Follow on INSTAGRAM
You might also like: CARAMEL PECAN MONKEY BREAD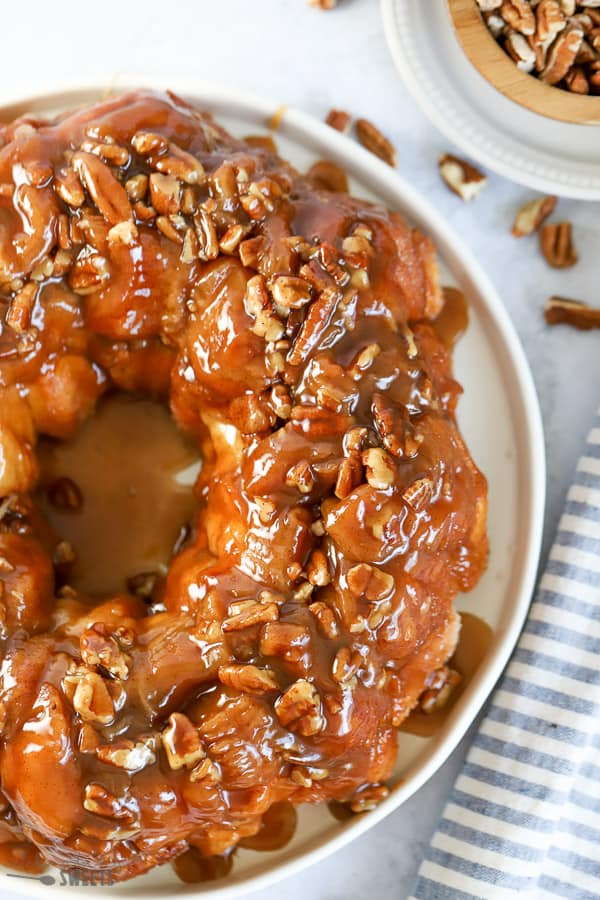 Apple Dumplings
Apple Dumplings - Tender cinnamon apples wrapped in a fluffy biscuit and smothered in a maple-brown sugar sauce. An easy fall breakfast or dessert.

Print
Pin
Servings:
8
(Makes 16 dumplings)
Ingredients
Filling:
2

apples

¼

cup

brown sugar

¼

teaspoon

cinnamon

8

canned biscuits

I used "flaky" biscuits
Sauce:
1 ¼

cup

water

½

cup

brown sugar

3

tablespoons

pure maple syrup

½

cup

unsalted butter

cut into cubes

Pinch

salt

¾

teaspoon

pure vanilla extract
Instructions
Preheat oven to 350°F. Peel, core and slice each apple into 8 equal slices. In a small bowl, combine ¼ cup brown sugar and ¼ teaspoon cinnamon.

Split each biscuit horizontally into two layers. Flatten out each piece of biscuit until it's big enough to hold an apple slice (about palm size). Place an apple slice in the middle of the dough and sprinkle lightly with some of the brown sugar-cinnamon mixture (you won't use all of it). Fold the dough up and over the apple slice. Pinch the edges of the dough closed to completely cover the apple slice. Place the wrapped apples, seam side down, in a 9x13 baking dish. Repeat with the remaining apple slices. You should have 16 total.

SAUCE: In a medium saucepan, combine water, 1/2 cup brown sugar, maple syrup, butter, and salt. Bring to a boil over medium heat and boil for 2 minutes, whisking occasionally. Remove from the heat and stir in the vanilla extract. Pour the liquid evenly over the apple dumplings.

Bake for 30-40 minutes, until the sauce is bubbling, the apples are tender, and the dumplings are puffed and golden brown. Allow to cool slightly (some of the sauce will get absorbed). Serve warm, spooning extra sauce over the dumplings.
Nutrition
Calories:
323
kcal
|
Carbohydrates:
44
g
|
Protein:
1
g
|
Fat:
16
g
|
Saturated Fat:
7
g
|
Cholesterol:
30
mg
|
Sodium:
264
mg
|
Potassium:
153
mg
|
Fiber:
1
g
|
Sugar:
30
g
|
Vitamin A:
380
IU
|
Vitamin C:
2.1
mg
|
Calcium:
45
mg
|
Iron:
1.1
mg